Local Piano Students 'Rock to the Beat'
Contributed by Christine Smith
The Cary/Apex Piano Teachers' Association celebrated the "heartbeat of music" with their 2nd annual Rhythm Workshop on November 3, 2007 at St. Paul's Episcopal Church in Cary. This year's theme was "Rock to the Beat: a Day of CAPTA-vating rhythm." Over 80 piano students ranging from ages 5-12 participated in this ever-popular event, which took place over two sessions throughout the day. Children in grades K-3 attended the morning session, and those in grades 4-6 enjoyed the activities in the afternoon. Each session was divided into four diverse musical stations, where children spent 30 minutes before rotating to the next.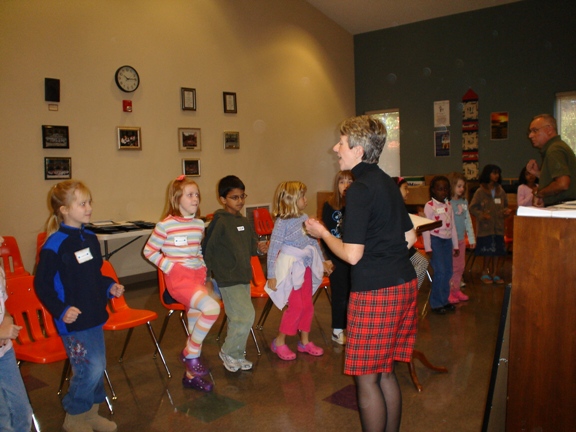 Rhythm went multi-media this year with the Animusic station led by Polly Greene from Raleigh and CAPTA member Marietjie Wessels. Students interacted with instruments while watching as music came to life in a computer animated video. Everyone walked away from the station smiling, and clearly knowing the difference between "the beat" and "the rhythm."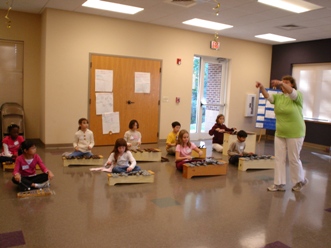 CAPTA member Tamara Lewis and Janet Cherry from the Meredith College music faculty joined the workshop again to lead the Orff Ensemble station. Students learned to feel rhythm from their feet to their hands, and then transferred those rhythms to percussion instruments in a "rhythmic safari."
Larry and Nadine Miedrich, both CAPTA members, led a station entitled "It's all in the Beat-les," using classic rock songs to teach students how rhythm is the basis of all types of music. Students played along with tambourines as they learned complex patterns and danced to well-known rock favorites.
Rhythm Workshop chairperson Michele Pechacek and CAPTA member Christine Smith led students in a "hands-on" Rhythm Twister challenge. Various rhythms were written on cards attached to Twister boards. One of the rhythms would be tapped out, and the students would be challenged to put the correct hand or foot on the correct card. Things became even more twisted up when the students would challenge each other, often resulting in elbows, noses, and ears on the mats.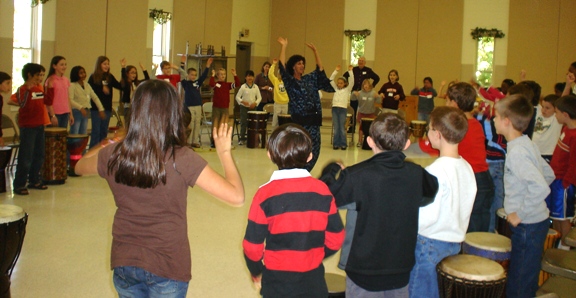 As always, the highlight of the day was the African Drumming circle, led this year by SueAnn Sollum, from Music Explorium in Durham. After a traditional greeting song and quick instruction on how to play hand percussion, SueAnn led the group in a rousing drum circle, using many different patterns all layered on each other.
Special thanks is given to Lee Harris from St. Paul's Episcopal church and Michele Pechacek for their planning and running the workshop, as well as to all of the CAPTA members and group leaders for their volunteer service. A very special thanks is extended to the Town of Cary in their sponsorship of this event. This fantastic day was sponsored in part by a grant from the Lazy Daze arts and crafts festival-a Cary based festival supporting local arts and non-profit organizations and activities.